Customers often ask us our opinion about certain ranges of scales and weighing equipment. Today's topic is the best 500 lb industrial scale. 
You may be wondering, what makes something an "industrial" scale versus just a regular scale?  That's a good question.
There technically is no distinct answer to this… however, we would argue that a scale that is "industrial" typically has some levels of ruggedness to it and is designed with more metal than a cheap plastic scale that you might find in your local office supply store.
We'll give you a quick example… Let's look at a few Ohaus products. They have the ES Series and the SD Series of scales.  We would not refer to either of these as truly "industrial scales".  We say this based mostly on their construction. These two product lines are not bad items. However, the weighing platforms are very thin and the weight indicators are very basic. 
However, when you look at the Ohaus Defender 3000 line of scales, that is more in line with what we would refer to as an industrial scale. The platform has solid construction with a single point load cell included. The weight indicator has a few more features.
Our top choice for a 500 lb industrial scale is the Brecknell 3800 LP bench scale.  Technically this scale has a 600 lb capacity. We like the design and durability of the 20″ x 20″ scale and the digital weight indicator is easy to setup and features an easy to read display. The scale even has checkweighing lights, column, and a rechargeable battery.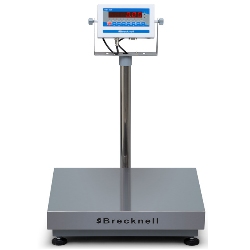 There are certainly other choices that are good products. However, we feel based on quality, durability, accuracy and overall value… the Brecknell 3800 LP is the overall best choice of scale when it comes to looking for the best 500 lb industrial scale on the internet.