Sensortronics 60001A-25-1177 S-Beam Load Cell 25 lb.
Load Cell,S-Beam 60001A25-1177 25lb 20ft cable Sensortronics 3mV/V 350 OHM WW NTEP III 5S/ IIIL 10S FM IP67

61116
25 lb. 60001 S-BEAM LOAD CELL APPLICATIONS
•Tank, bin and hopper weighing
• Level and inventory monitoring
•Truck scale conversions
•Tension and compression measurements
Sensortronics SPECIFICATIONS:
Full Scale Output: 3.0 mV/V
Bridge Resistance: 350 ohms, nominal
Material/Finish: High-alloy steel, nickel plated
Temperature: Compensated range
14°F to 104°F/-10°C to 40°C
Safe Overload: 150% Full scale
Rated Excitation: 10V DC (15V maximum)
Nonlinearity: 0.03% Full scale
Hysteresis: 0.02% Full scale
Insulation Resistance: 5000 megohms
Seal Type: Environmentally sealed
Cable Length: 20' / 6.1 m
Cable Diameter: .200 Polyurethane jacket
Cable Color Code: Red................ + Excitation
Black............. – Excitation
Green............ + Signal
White............. – Signal
Warranty: One-year limited warranty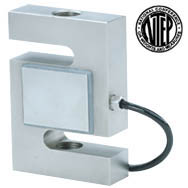 †
No rating yet... Be the first to rate this product!