OHAUS has supplied Aviator 7000 retail price computing scales as part of its portfolio for well over 10 years. Recently, they have decided to focus their efforts on  core laboratory and industrial weighing in the future and therefore will discontinue Aviator 7000 by the end of 2020. Click here to see our price computing scales that are still available.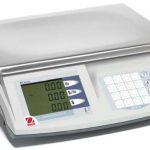 As part of this change, the Aviator 7000 can be ordered until current stock is depleted. Spare parts will be available for 5 years after phase-out, based on current demand. As with other products, the factory will continue to support all warranty claims under their standard warranty.
With this change, the Ohaus goal is to focus on Industrial and Laboratory products, especially in the industrial portfolio which they plan to launch in 2021 which will include: new Valor 1000 approved scales with RS232 option for use in food processing and a new Bench scale with IP69K and 316 steel construction for harsh washdown environments.