Over the years we have sold hundreds and hundreds of the Mettler Toledo PS60 shipping scales…
In fact, we even use the scale at our own shipping station. So the news surprised us as much as anyone last week when we were told that the PS-60 will be replaced by the BC-60 shipping scale. For those of you that don't know, the PS60 Parcel Scale was the cornerstone of the PS Scale family. With its 150 pound capacity and rugged industrial design, it was widely regarded as the industry standard for parcel shippers. The scale connected easily to a PC via RS-232 or USB (including the connection cables), and boasted of compatibility with virtually all shipping manifest software applications. In addition, the PS60 included NTEP / OIML / EC certification, so it could be legally used in commercial applications. The PS60 featured a large, adjustable, easy-to-read LCD display.
Simply put, the PS60 scale has been the standard choice for many years when it came to customers looking for a reliable and easy to use scale to weigh boxes on.
The Mettler Toledo BC-60 series scales include the latest technology, and provide a drop-in replacement for the legendary PS scale, offering the same ruggedness, reliability, and ease of operation. BC scales advanced electronics and graphical display allows greater flexibility and enhanced performance for mailing, shipping and warehouse applications. Designed to work flawlessly with UPS WorldShip®, FedEx Ship Manager®, DHL EasyShip® and other shipping and manifesting software, the BC scale is an ideal choice for parcel and shipping stores, post offices, carrier retail counters, corporate mail rooms and warehouse packing stations or shipping departments.
Each BC-60 Scale features:
• Simple plug-and-play connectivity
• A large display that can be remotely mounted
• Legal-for-trade accuracy with Weights and Measures approval
• Applications to reduce cost and increase performance and flexibility
Without a doubt, the PS60 has been the "standard" in the shipping industry for almost 20 years. Basically, the new BC-60 scale provides the same rugged and reliable operation, but also has enhanced capabilities with the latest technology to lead the carrier, express, and postal industries into the next 20 years. The BC 60 scale provides superior reliability, flexible communications and added value applications for retail shipping stores, post office counters, corporate mail rooms, sorting stations, warehouse shipping docks and warehouse packing stations.
With a heavy duty metal frame and stainless steel platter, BC Scales provide years of trouble-free use. The BC scale is designed for an industrial environment, for superior resistance against rough handling of your heaviest packages. Advanced load-cell technology and sophisticated electronics ensure BC series scales provide the precision, accuracy and long-term stability required for commercial applications. During setup, the patented GeoCal feature compensates the sensitive factory calibration for local gravitational differences, providing best accuracy without the cost of re-calibrating the scale. Like the PS60 before it, the BC60 scales are simple to set up and easy to use. No complicated programming is required to connect them to your shipping software. The large graphical display with basic navigation keypad are simple and intuitive. Managers have access to password-protected controls for adjusting optimum operation and performance. BC scales come with a selection of roller and ball top platters provide better work flow to ease stress and increase worker efficiency. Remote display accessories make it easy to see displayed weight in any setting. Bluetooth and Ethernet options allow for flexibility in warehouse use. One of the unique differences you'll notice with the PS60 vs BC60 is the keypad and weight display.
The new enhanced display of the BC60 includes:
Graphical Display with simple navigation keypad
Simple to operate, like TV remote. Use of flexible Soft Keys on the display. Navigation keys allow you to roll to soft key and highlight it. Press center Enter key to accept. Simple to Exit program menu
Weight screen to show 12mm numbers and weight units
Press down arrow in weighing mode and screen will convert to 20mm high letters.
INFO screens for better Tech support – Simple to access information, full text descriptions.
Multiple languages – English, Spanish, French, German, Italian, and Chinese
Allow Push Button Feedback – circle is shown if key press was triggered
Multiple serial protocols, USB by HIDPOS, Plug and Play with Microsoft standard protocol for Point of Sale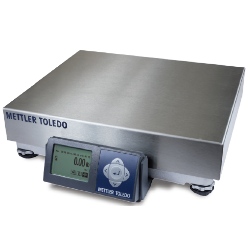 BC Series Scales
For Postal, Carrier and Warehouse Shipping and Packing Stations
Features and Benefits
• Cast aluminum and structural steel bases/sub-platters provide exceptional durability, with overload capability to 500%
• Plug-and-play connectivity with carrier shipping and manifesting software
• NTEP, Measurement Canada, and EC/OIML-approved accuracy and stability for legal-for-trade applications
• Broad range of operating temperatures allows use on the coldest shipping docks
• GeoCal™ auto-compensation for local gravity effects, making initial calibration with test weights unnecessary
• Large display with adjustable-angle mounting bracket for attached or remote use with tower or wall mount
• Flexible communications including standard USB (HID point of sale), Serial, Virtual Serial, or built in Keyboard Wedge
• Options for Alibi Memory, Ethernet communication or Bluetooth wireless communication.
• Multiple rounding methods – normal, weight classifier, and USPS rounding
• Auto-ranging scales provide higher maximum capacity for heavy parcels and better resolution for light letters
• Easy configuration of special capacities and resolution