Think about all the food you consume over the course of a week or maybe a few weeks. If you're like me then you're probably visiting a few restaurants during this time period, maybe even a few of the same one's if they're really good.  How do the restaurants or the bakeries get the recipes so consistent each time you taste the delicious entree? Well the chances are, at some point, the recipe has been measured out very carefully using a digital scale. In the article below, Mona Segal from Kilotech caught up with a company who believes very strongly in consistent and accurate ingredient usage and they achieve this with the help of a food scale. Below are some of the highlights.
Bon C Bon prepares a different menu each week from which their clients can order online and have their meals delivered directly to their door. Only the freshest ingredients are used. But what is truly spectacular is how 300-500 meals each week can be produced looking like they were individually prepared. Watching the team manage this was like watching a symphony. Each individual performed their part and the final result was a very cohesive and happy group producing delicious meals.

When I asked Caroline and her husband Michael what the scale brought to their business, in unison they replied, "Standardization!" At the beginning Caroline would eyeball it. Michael would speak about "repeatability" and having the same experience every time you ordered a Bon C Bon meal. Because the portions may have been varied slightly, it was time for standardization. Caroline purchased her first Kilotech portion control scale 7 years ago after 4 months of Michael trying in vain to convince her to do so. Not only has it ensured repeat-ability, it has also helped her with purchasing and inventory. As Caroline said, "You need to control in order to grow." Having the Kilotech portion control scale allows her to have consistency across the board – consistent taste, consistent weight, and consistent supplies – which leads to consistently satisfied customers. As Caroline said, "Everything is made to measure, made to scale."

With rising costs in food, staff, packaging and fuel, it is essential to have controls in place. This ensures that Bon C Bon can continue to deliver mouth-watering meals that are consistently good. Whether it is the first packaged meal of the day or the last, they will both be exactly the same in weight and in product. Caroline's Kilotech scale gives her that piece of mind!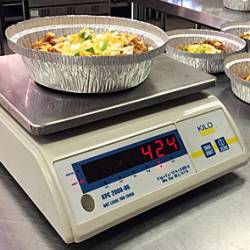 Wonderful article from Kilotech who is well known in Canada for their KPC 2000 scales. I know we often see customers in the food and beverage industry looking for choices for their weighing needs. Some of the typical choices that these customers might choose would be things like your standard portion control scale, stainless steel counter top scales, checkweighers which allow you to set a target weight and then have a plus or minus tolerance and there are other types as well that people in this industry look for quite often.
If you operate a food preparation business and you're looking for a better way to measure your ingredients and provide a consistent experience for your customers, contact us and we will work with you to provide a quality weighing scale that will help you to do just that. And if you are in the market for this type of scale be sure to do some homework before rushing into a purchase.
A few things to think about are listed below.
| | |
| --- | --- |
| FEATURES | POTENTIAL CHOICES |
| Enclosure | Plastic or Stainless Steel |
| Washdown | Yes, IP65, IP66, IP67, IP68, IP69K or No |
| Checkweigh Function | Yes or No |
| Units | pounds, kilograms, grams, ounces, pounds:ounces |
| Power | 110VAC, Rechargeable Battery, D Cell Batteries |
| Options | Foot pedal, touchless tare, round shape platter |
So if you're in the market for a portion control scale for your food service business, the table above is just a glimpse into some of the decisions that you need to make before you pay any cash for a "food scale".  You'll also want to consider things like is the scale NSF certified? And do you want a scale that is also NTEP approved?  If all of this seems a little overwhelming that is understandable since there can be a lot to consider. I suggest writing down a list of the features that you must have and then choose four or five food scales that you like and start checking them off, one by one to see if they have the specific features that you need for your weighing process.
Speaking of food and portion control… that is certainly an important component to getting in better shape, losing weight and exercising. Be sure to check out our is Peloton worth it review that was done in 2020.