For many years the standard size floor scale for weighing pallets has been a 4×4 platform scale. This used to be 48″ x 48″ but is often more like 47.2″ x 47.2″ due to metric measuring by China manufacturers.
When weighing pallets that you place on the scale using a forklift, the size 4×4 usually works fairly well.
However, if you're using a ramp and a 4×4 floor scale to push your pallet jack scale up, it can lead to some major issues if you're not careful.
Originally, I was just going to discuss the 4×4 floor scale versus a larger scale like the 4×5 floor scale, or perhaps the 5×5. But I had a customer mention a 40″ x 40″ floor scale today, so I will mention that size platform as well.
Many warehouse operations use pallet jacks to move loaded pallets on top of the scale to obtain a pallet weight.
Believe it or not, the 4′ x 5′ floor scale is actually the correct size floor scale to use when using a ramp with pallet jack.
A 48″ x 48″ scale platform with ramp can provide very little maneuvering room for a fully loaded pallet jack.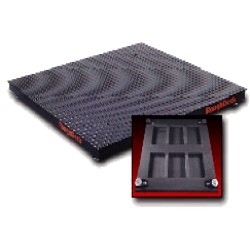 Meanwhile, the 48 inches x 60 inches floor scale actually provides the pallet jack with the space it needs, safely. Did you know there is actually around 55 inches or so between the front & back wheels of a standard pallet jack?  If you have the extra room, a 5×5 floor scale might work really well also.
So obviously a 48″ square floor scale doesn't work very well in this story and you know a small 40″ x 40″ floor scale has no chance to work in this scenario. 
With the 4 x 4 floor scale you can not clear a standard sized pallet jack & it is very unsafe when dealing with heavy loads that you're rolling up on to the platform scale and then back down the ramp.
As for a 40″x40″ scale, that is a really small platform if you think about it. It certainly could work if you were placing pallets on a scale using a forklift. However, I could easily see a platform that size being run over by forklifts and you would likely be weighing numerous items that were wider than your platform scale itself which is certainly not ideal. And if/when a forklift runs over the 40 x 40 scale, there will be downtime while you wait for a service call and likely load cell replacement.
Therefore, we strongly recommend that all customers purchase our 4 x 5 floor scale or a bigger size like a 5'x5′ when driving a loaded pallet jack up the ramp to get a weight.