You know we've been providing customers with legal for trade price computing scales for the market for many years and the fact is that many of our customers tell us all the time that they don't need a bunch of bells and whistles. They just need a dependable and affordable retail scale that's legal for trade. That's why we're really excited to bring you the Brecknell PC Series price computing scales and the Adam Equipment Raven scales.
BRECKNELL LEGAL FOR TRADE PRICE COMPUTING SCALE
These Brecknell scales are Class III legal for trade and are available in either a 30 pound or 60 pound capacity. The scales feature front and rear displays for both the operator and the customer. The scales can compute price per pound, price per kilogram, or price per ounce. So they're great for selling anything from apples to chocolates to frozen yogurt. The scales operates on standard 120 volt AC power or you can use the built in rechargeable battery which has a battery life of about 70 hours without backlight or around 35 hours with backlight. These Brecknell scales are simple and easy to use. In addition to basic price computing functions, the scales also have 6 memory keys so you can store the prices for your most popular items.
Brecknell products are designed and constructed with a focus on high-value solutions and accuracy. We've been selling Brecknell Scales for many years.  So, if you're looking for a basic price computing scale that is reliable and has brand name quality without the high price, take a look at our Brecknell products that we offer by visiting our website today.
ADAM EQUIPMENT LEGAL FOR TRADE PRICE COMPUTING SCALE
Adam Equipment's dual-range Raven scale provides efficient retail weighing and price computing in a variety of settings. The Raven features a sleek, lightweight design. With sturdy ABS plastic housing and removable stainless steel pan, the Raven can be quickly cleaned between sales. Backlit LCDs on the front and rear of the scale show weight, unit price and total price. These results are simultaneously visible by the operator and the customer, allowing price and quantity verification. The easy-to-use keypad is sealed to keep out dirt and spills.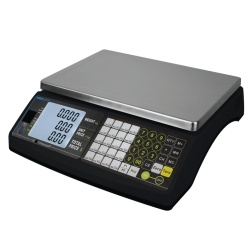 To provide fast configuration and operation, the Raven offers 40 PLU memories. In accordance with OIML standards, memory keys on OIML-approved models are disabled for weighing. The Raven is powered by rechargeable battery or AC adapter, so it can be operated at outdoor stands or in farmers' markets. Adjustable non-slip feet can be locked to help stabilize the unit on counter tops. Raven scales feature EU Type Examination certification and are approved by NTEP and OIML for use in trade. Experience soaring efficiency and productivity with the Raven.
CAS LEGAL FOR TRADE PRICE COMPUTING SCALE
Maybe you own a small candy shop or perhaps you sell your home grown produce and vegetables at the local farmers market each week? In either case, you need an accurate and affordable scale that is legal for trade and can calculate the price per pound. The CAS ER Junior price computing scale offers lots of outstanding features at an affordable price. Let's take a closer look at this retail scale. The popular ER Junior from CAS is a wonderful choice for many different types of businesses. In fact, it's been so popular that it's been difficult to keep in stock! These legal for trade price computing scales for the market work great for folks selling everything from chocolates to fresh vegetables and fruits.
The scale features a 30 pound maximum capacity with DUAL RANGE capability. Dual range is a really nice feature for a scale in this class. It's kind of like buying two scales for the price of one! The internal rechargeable battery makes this a perfect choice for on the go weighing at the farmers market. There you have it. The CAS ER Junior is a great choice for customers who simply need a reliable legal for trade battery powered digital scale that computes price per pound.
As always you can count on 1800scales.com to provide you with high quality legal for trade price computing scales for the market online and great buying advice. We've been providing this to our customers since 2005.