Everyone knows that our selection of cheap legal for trade scales includes things like laboratory balances, bench scales, digital weight indicators, industrial floor scales, load cells, and truck scales. These items all have a certificate of conformance. The NTEP Certified Legal For Trade scales provide consistent accuracy when weight is a critical factor. We have many legal for trade scales available from various suppliers.
Now we chose to include the word "cheap" in our article. For this article we will focus on less expensive choices that are a good economical choice for most consumers. I like to mention that since the word cheap can be defined a little differently depending on who you ask.
When you're looking for cheap legal for trade floor scales, I often point customers to our Optima floor scales. These are about the best blend of cheap prices and decent quality that I have been able to find. You see often with floor scales, the manufacturers in China have struggled to balance low prices with decent quality over the years. We've seen all kinds of examples of this. But, Optima is one of the better choices when you factor in durability and low prices. Similar scales that we recommend also include the Brecknell DSB, CAS HFS, Inscale LP7620, Triner, and Weighsouth.
If you're in the market for cheap legal for trade balances, I often recommend the Intel-Lab AJ-1200 NTEP approved weighing balances. These are ideal for buying and selling gold or for medical dispensaries. This Japanese made balance is well equipped for the busy over the counter dispensary trade. NTEP approved (to 0.1 g), this accurate and long lasting, rugged balance has a 5-minute warm up time. Great choice for the burgeoning legal dispensary business by offering an affordable and easy to use balance designed for the specific weights and units of measurement found in the cannabis industry. Compatible with popular dispensary software. Optional rechargeable battery and carrying case available. NTEP Class II Approved on 0.1 g displayed digit only. Similar balances we also like include the A&D EK-600i.
Many customers don't need a 5000 pound capacity scale nor do they need a four foot wide scale. So they often look for cheap legal for trade bench scales. I often recommend the CAS SW-1 series for light weight counter top scales up to 50 pounds. If you're looking for heavier scales, then I recommend the UWE line of cheap legal for trade bench scales. The UFM-B range of NTEP bench scales has been proving itself in the worst operation conditions imaginable for more than 10 years. From being covered in powder in factories, covered in glue, to being abused by airline passengers in the ticket areas of airports, time and time again the UFM-B model has out-performed other lesser scales. NTEP approval up to 6000 divisions, cast aluminum bases, box steel pillars, and a heart made from the best load cells around, means that they can handle just about anything that customers can throw at them. Similar scales we also like include the UWE APM series, CAS PB series, and Weighsouth bench scales.
From time to time we do get inquires for cheap legal for trade hanging scales. There are several ranges of products that fall under this umbrella. First, if you're talking about legal for trade hanging scales like you would see at a farmers market, also known as hanging scales for weighing produce, then we recommend the Chatillon series. If you're looking for light capacity digital scales, then we suggest the CAS NC-1 series. Finally, if you're looking for legal for trade industrial crane scales, the best choice is probably either CAS or Intercomp.
Customers contact us all the time looking for cheap legal for trade shipping scales and the truth is the best choice and most reliable choice is the Mettler Toledo BC60. No, it isn't the cheapest scale out there but year after year that scale continues to sell and they last. In fact, we have used the same Mettler Toledo shipping scale at our shipping table for who knows how many years now?  Guessing it's been at least ten years…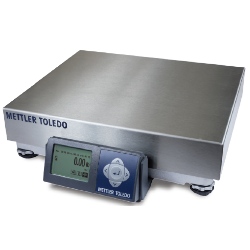 We sell lots of cheap legal for trade retail scales every year. Now when I say "retail" that typically means things like our price computing scales, point of sale scales, or what some people call "commercial scales". I recommend the CAS S2000 JR if you're in the market for a cheap legal for trade price computing scale. Is it the cheapest? No, that is probably the LPC-40L from Torrey, but as we've mentioned in the past, we suggest choosing a different scale if you can afford to. As for point of sale, our suggestion for a cheap POS scale is the CAS SW RS series.  Similar scales that we like include the CAS ER Jr, Brecknell POS scales.
If you're in the market for a cheap legal for trade digital weight indicator for your scale, then I recommend the Transcell TI-500E, in most cases. If you are just looking for a simple scale display, the TI-500E is a great choice. However, if you have a little more intense environment, perhaps you deal with plastics and have static issues, then a TI-500E is not a good choice. Or perhaps you need a scale controller with stainless steel enclosure, in that case I would typically recommend a heavier duty indicator like the Rice Lake 480 for example. Similar choices we like include the Brecknell SBI-505, Transcell TI-500E SS, Transcell TI-500RF SS.
If you're in the market for a cheap legal for trade load cells, then I recommend the Zemic lineup of load cells that we offer. Zemic has a large selection of load cells to choose from and in many cases we can get those to you with very short lead times. Often customers will contact us looking for brand name load cells which may have a multi-week lead time and we are able to provide them with a Zemic load cell the same day. Similar choices we like include Coti Global cells, Transcell cells.
The point of today's write up is to mention different "cheap" legal for trade scales options to you. We appreciate your business and if you're looking for cheap scales that are legal for trade, we can help you! Just contact us with your requirements and a rough idea of what your budget is and we will tell you what we recommend. As always, we do our best to sell the top "cheap" items that we know of. Likewise, we do our best to walk the fine line of selling low cost scales that are good quality and not junk. It's a tremendous challenge these days. You would not believe the amount of stuff being brought in from China…. but we always try to provide customers with items that are accurate and reliable.