The topic that I want to discuss today is the top waterproof scales for the money this year. For the record, I use the term waterproof since that is how some folks like to describe the stainless steel scale that can be washed off or cleaned off with water. I typically refer to it as wash down safe since the term waterproof signals that the item one hundred percent keeps all water out which isn't always true. But for the most part these scales are about as water proof as you can possibly get in an industrial weight scale.
The truth is I could probably write this article with one sentence.
The answer would more than likely be a Doran Scales product.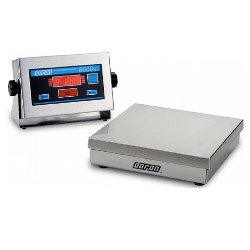 The Doran Scale Company has focused many years on building stainless steel wash down scales. In fact, for a number of years that is really all they offered. Nothing stands up to water like Doran waterproof scales in my opinion. The company has over 35 years of experience designing and manufacturing stainless steel digital scales.
Their current product line includes the 7000XL, the 8000XL which includes a rechargeable battery, 4300 checkweigher, and the 2200 bench scale.
Any of these choices would more than likely be the best "waterproof" scale that you could buy.
The Doran Excel Series 7000XL stainless steel bench scale is the latest evolution of the proven 7000XL Series Scales. For years it's been a workhorse in the toughest of working environments, now it can be put to work in a wider variety of tasks with the Excel Series Design. From a simple dough scale on a baker's bench to data collection device connected to a computer network, the 7000XL is adaptable to fit your specific needs. The basic controls are all here – Zero, Units, and Print, you can't get any simpler than that. The benefit to you is a scale that is easy to operate and train employees to use – reducing operator error.
The Doran 8000XL internal rechargeable battery and charger provides a simple-to-maintain scale that can fully charge the battery in five hours, even while the scale is being used. The scale features over 60 Hours of Battery Life. In addition to being easy to operate, the unique "Quad-Spring" design protects the sensitive load cell from shock and overload damage. Protected to a maximum of ten times the base load rating, this design sets the new industry standard—a feature available only from Doran.
The Doran 4300 checkweigher features 304 Stainless Steel construction and the exclusive Doran gasket design which exceeds IP69K and NEMA 4X classifications for washdown protection. The 4300 Checkweigher will survive and thrive in the most extreme washdown weighing applications. The 4300 is simple to use with minimal operator training. Set over/under tolerances right from the front panel using the Up/Down arrow buttons. Checkweigh to zero or actual weight with 3- or 5-zone checkweighing operations.
The Model 2200 stainless steel bench scale puts you in complete control of the advanced functions with its intuitive keypad. The easy-to-use full function keypad allows for simple entry of digital tare, time and date, accumulator, eight product ID's, eight setpoint outpoints, and eight grade values. Simply enter the desired value, press one of the clearly labeled function keys, and the data is entered—putting the power of Doran's 2200 at your fingertips.
Now many of you will choose not to pay the price that a Doran scale will cost.
So, what other less expensive options do you have that are still good, "waterproof" scales?
One option would be a scale with the Cardinal 190 indicator.
This indicator is a great weight indicator for washdown use and also features multiple colors which would make it great for check weighing. Built for extreme use applications in the weighing industry, the American-made 190 STORM's IP69K-rated polycarbonate enclosure withstands high-temperature up to 176 degrees F and high-pressure wash downs (1450 PSI). The 190 STORM features capacitive touch keys, 1-inch-high clearly visible LCD digits, built-in RS232 communications port, and versatile power options: AC, DC, and rechargeable battery. The 190 STORM's bright, vivid display changes color automatically as the pre-assigned target weights are reached. The operator knows immediately when they've reached the acceptable weight range based on the amber, green, or red color changes for UNDER, ACCEPT, or OVER weights.
Avery Weigh-Tronix has a nice product offering with the ZQ375 series.
Certified by NSF to NSF/ANSI Standard 3-A, the ZQ375 Checkweigher has been specifically designed to meet the stringent hygiene requirements of the food processing industry. IP69K rated for heavy wash down environments. The ZQ375 checkweigher features a highly visible, low power draw IBN display, which offers ease of viewing in all lighting conditions. Its large, nine segment digits and colored multi-segmented under/overweight graph give the operator a fast visual indication of weight which is user friendly, yet highly accurate. This checkweigher is legal for trade, making it suitable for use in commercial applications where product is sold by weight. It is available in a range of sizes and capacities from 6lb to 500lbs (3kg to 200kg).
Another choice could be the Adam Equipment Warrior model.
Warrior scales meet the demands of tough wash-down and clean room environments. Solid stainless steel construction of the base and indicator provide rugged durability. The scale comes in a wide variety of capacities and is generally less expensive than the Avery Weigh-Tronix, Doran, or Cardinal Scale models.
Another popular choice might be the Rice Lake CW 90 Series stainless steel scales.
The scales available in the standard CW90 or the IP69K CW-90X version. The CW-90 check weighing scale is designed to help speed up your weighing process and reduce production downtime, two critical factors to your company's bottom line. Ease of use, real-time data collection, and rugged stainless steel construction make the CW-90 the equipment of choice for operators, quality control and maintenance departments. The CW-90 is competitively priced for all light industrial settings.
One important area that we don't talk about enough is setting up or configuring a scale. The configuration menu of the CW-90 is accessible through the front keypad, eliminating the need to open the back of the indicator and expose the unit to moisture or contaminants. Access to these keypad controls can be limited to meet the operator's needs. The CW-90 will store detailed information for up to 50 separate IDs, allowing for easy recall of previously saved information. An adjustable contrast display is visible in any environment. The CW-90 has kept things simple to meet the needs of today's lean manufacturers. Use this checkweigher by easily watching the over/under lights. Program the unit with specified weight limits and a red light will display an underweight condition, yellow for over, and green when a target weight is reached.
Rice Lake's CW-90X over/under washdown checkweigher is ideal for heavy wash down environments and HACCP requirements. 304 stainless steel, IP69K rated weight indicator.
Finally, we need to mention Ohaus. The Defender® 7000 Washdown Scale is definitely a scale to consider as well.
The Defender 7000 Series of waterproof scales provide enhanced performance and operation for versatile and advanced industrial weighing applications. With an IP66 stainless steel T71XW indicator, bases and columns, the Defender 7000 has an alpha-numeric keypad, comprehensive yet intuitive software, among much more which combine to make Defender 7000 the all-encompassing scale for your demanding weighing operations. The scale features IP66 indicator with hinged front cover, IP67 stainless steel load cell, column, and mounting bracket, 304 grade stainless steel form-and-weld frame.
As I write the Ohaus data above, it reminded me of one key point.
If you're looking for a truly waterproof scale with no areas of weakness, one important thing to consider is the base or scale platform. Often a "washdown" scale will feature a really great digital weight indicator that is IP69K or NEMA 4X rated. But, then it will have a scale platform that has an aluminum load cell inside. And, that usually works out pretty well, but it is something to consider. So one area that you might want to think about is making sure that you get a scale with upgraded stainless steel load cell.
I also want to mention enclosure ratings. The Ingress Protection (IP) rating system is an internationally recognized scale that relates to proven protection against environmental factors such as liquids and solids. Typically I like to recommend digital weight indicators with IP67 or higher for folks truly looking for wash down capability. IP68 or IP69K are preferred.
So there you have it, this is my selection of the top waterproof scales this year.
This list represents a wide variety of scale manufacturers and I think this list provides you with a good broad range of scales to choose from that will hopefully meet your specifications and your budget. As always I want to emphasize that there are other scales out there in the market place and some are probably very good scales but in some instances we don't have access to them or in other instances we don't feel that they are as good as these scales that have been mentioned.