The HRB-1002 series digital balances offer quality at a great price. These HRB-1002 balances are compact, feature a large backlit LCD display, rugged ABS housing, heavy duty load cell and are easy to use with 1000 gram capacity and readability of 0.01 grams. These economy digital scales offer high performance at a great price. HRB balances meet the highest technical weighing requirements for a balance in its class.
While these 1000 gram capacity scales are not designed to entirely take the place of brand name items like the Ohaus Explorer, the HRB series scales are ideal instruments for general laboratory, industrial and educational weighing applications requiring multiple weighing modes on a tight budget. Some nice features of the HRB balances include: leveling feet to ensure accurate weighing, removable stainless steel weigh pan, multiple weighing modes, Backlit LCD display, A/C power supply or AA battery power, and simple counting function (on select models).
HRB-1002 balances provide great value to many places such as a high school science classroom. Often, junior high and high schools need to purchase more basic weighing instruments to meet their budget, but with the HRB-1002 lab balances, students still get to operate a digital balance that features a glass draft shield and RS232 interface. Please note, specifications subject to change due to constant improvements being made to this model.
Ground Shipping included for cont'l US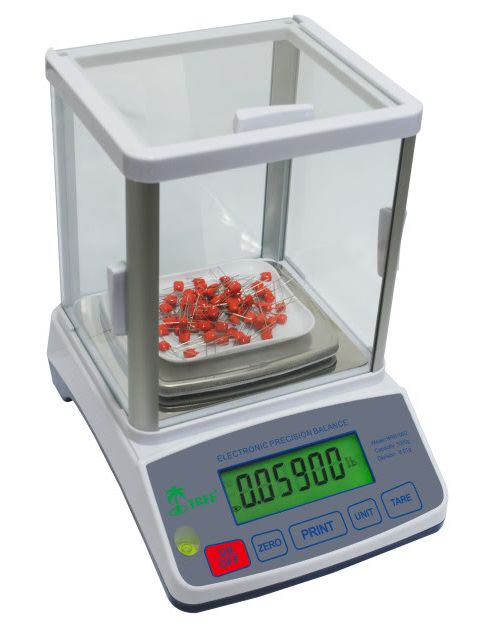 Capacity (g)

Readability(g)

Counting function

Weighing Modes

g, oz, lb, dwt, ozt, ct, tl.T, tl.H, tl.J, GN, dr, MM, ToLA, gsm, TAR, TMR

Pan Size

Power

110VAC power adapter or AA batteries
Other HRB Balances available are below. With all the different capacities available, you're sure to find one that meets your needs and your budget.

Capacity (g)

Readability(g)
Capacity (g)

Readability(g)

specifications subject to change without notice
No rating yet... Be the first to rate this product!