You might be wondering what is the best scale for an uneven floor?  That is a really good question that is often overlooked. Depending on what type of scale you're interested in, there are some scales better suited for an uneven floor than others. Often, many of the lower cost scales on the market do not offer adjustable feet.  For example, many bathroom scales are not expensive and therefore are designed to be used on a level surface only. Unfortunately, there are also quite a few postal shipping scale and lower cost scales that don't offer adjustable feet.
Scales for Floors that are Not Level
A lot of low cost electronic scales don't have adjustable feet.  That is one of the key features that you need to look for if you're trying to find the best scale for uneven floors.  Many scrap yard scales and bench scales offer an adjustable foot in each corner of the scale platform.  To adjust the scale foot, also called a scale leg sometimes, you simply turn it until all four feet are touching the floor.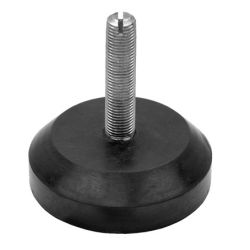 Look for Scales with Adjustable Foot
Ideally, when using a digital scale, you need to have a relatively even weighing surface (floor).  Yes, the adjustable feet can assist… but they are designed to do just that… assist.  A floor that is severely sloped would not be the best place to locate an electronic weight scale.
What are some Scales I can Use on an Uneven Floor?
If your floor is a little sloped here and there…. we have a wide variety of scales to choose from. We have fishing scale with adjustable foot, vet scales with adjustable feet, industrial bench scale with adjustable foot, industrial floor scale with adjustable feet.
If you are looking for the best scale for an uneven floor, please browse our website and if you find some choices that you are interested in, be sure to contact us and we can tell you if the feet are adjustable on that particular scale.