Pallet scales can be found in almost any industrial setting. Factories, shipping & receiving, & storage facilities, use these scales to weigh pallets.
Today, we'll take a stroll through the features and options you may need to consider as you ask yourself, where can I get accurate pallet scale buying advice?
What is a pallet scale?
When picking a pallet scale, you'll need to think about platform size & capacity, system features, and applications. Pallet scales need to be coupled with a weighing readout, which can show weighing or counting amounts. You can generally buy a weight indicator as part of a bundle with a platform scale, however you can always upgrade down the road if needed. Popular upgrades or options for scrapyard weighing equipment include: rechargeable battery, numeric keypad, or label printer.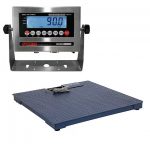 Among the most crucial factors to consider for a platform scale is the actual size of the platform. You'll need to know what the dimensions are of the items you are weighing. You'll need to know what the approximate weight is of the pallets you will be weighing regularly. Taking it one step further, a stainless steel washdown platform might be the best option if you'll be utilizing the platform scale in a food processing environment.
How accurate are pallet scales?
In general, our pallet scale lineup is accurate to 0.1 of one percent. This is the industry standard industrial scales. So on a 5000 pound capacity floor scale, if you placed five thousand pounds of weight on the scale platform, the tolerance would be +/- 5 lb.  
How do you use a pallet scale?
If you're curious about how to use a pallet scale, it's actually very simple. For basic weighing, you set your pallet on to the scale platform and read the total weight.  If you're trying to get the weight minus the pallet, you can either do a keyboard tare and enter the weight of the pallet to be tared off (if you know the weight of the pallet & you're using a top weight indicator with numeric keypad) or you can take the items off the pallet and just weigh the items by themselves.

Often a diamond-plate surface area would be much better for traction and security than smooth stainless steel. The old expression, you get what you pay for, can definitely hold true with floor scales. An affordable platform scale might be cheaply made with lower quality products, like lower grade stainless steel. One of the most useful devices for platforms scales are ramps. Ramps enable heavy loads to be quickly and securely wheeled onto a bigger platform for weighing.
Should You Purchase a 48″x48″ or 60″ x 60″ Pallet Scale?
Have you ever gone looking for a simple platform scale to weigh pallets?  If you're reading this, you probably have before or you're being tasked with it now.  Should you buy a 48″x48″ or 60″x60″ industrial floor scale? 
The 48×48 pallet scale is the most common freight scale purchased. However, the 60×60 can accommodate the full length of a pallet jack without fear of rolling off the back of the scale.
What Pallet Scale Should I Buy?
So, if you have the room in your warehouse, then you should strongly consider the 60×60 pallet scale with either 5000 lb or 10,000 pound max capacity.  If you're planning on using a pallet jack, keep in mind the scale manufacturers recommend a four foot long ramp.  So that becomes a rather large amount of space taken up when you put a 60″ x 60″ 10K scale on your warehouse floor along with one or two 60″x48″ ramps. As for scale brands… if you're looking for industrial tough quality scale equipment, we would suggest looking at the B-Tek Clydesdale or the Rice Lake Roughdeck.  If you're looking for light industrial low profile floor scales, you might take a look at the Inscale floor scale lineup that we offer.
We hope this entry about pallet scale buying advice has helped you better understand the options available when weighing items using an industrial floor scale. Remember, we are just an email or form away if you have any questions about purchasing a set of pallet scales.