We typically are asked about the top load cell brands or load cells that we recommend quite often. First, we don't offer every single brand of load cell. There are several reasons for this. Some brands are exclusive and won't sell to us.  Some brands are not that popular. Some brands are not very good, etc….
Back in the day, a good number of strain gauge load cells were manufactured in the United States.  However, today there are not very many load cells that are made in the USA.  The majority of strain gauge load cells are manufactured overseas. When we say overseas, we don't necessarily mean China. There are a lot of load cells that are actually manufactured in India or Spain.  
In our experience, the top load cell brands are Artech, Rice Lake, Revere Transducers, Sensortronics, Tedea Huntleigh, and Coti Global.  Once again, this list is not exhaustive.  There may be other brands of cells that are exceptional. However, in our experiences, these are the brands that we generally recommend often to customers.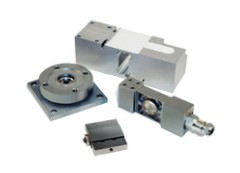 Best Brands of Load Cells
Rice Lake Load Cells
Whether you're selecting a replacement load cell or a specialized load cell for a custom application, Rice Lake usually has the item and can answer questions and help you select the best equipment for your needs whether it's a replacement cell for a truck scale or maybe you're trying to figure out what load cell to use for a 4×4 5K floor scale. 
Coti Global Sensors
Coti Global Sensors manufactures and supplies load cells. They offer one of the largest selections of load cells available from any manufacturer. Coti Global manufactures all types of load cells, from single point load cells to double ended beams.  Product certifications include NTEP, Factory Mutual Approvals, UBC Seismic Approvals and VCAP.
Artech Industries Load Cell Manufacturer
Artech Industries, Inc. is a major supplier of strain gauge load cells and force transducers for a wide variety of industrial and OEM applications. Artech has been providing high quality load cells made in the USA and dedicated customer service since 1985.
Vishay Precision Group Load Cells
Quality, innovation, and wide range of products are the backbone to Vishay Precision Group's load cell offering. These are the most respected brands in the industry like Sensortronics, Revere Transducers, Tedea Huntleigh, and Celtron.
Other Load Cell Brands to Consider?
There are several other brands of load cells that we do recommend at times.  A lot of times, it comes down to price and availability with load cells and therefore you need to have a plan B in case your preferred load cell has a long lead time.  Sometimes we do recommend Transcell Technology, Anyload, and Zemic brands.
Are there Load Cell Brands that I Should Avoid?
Yes, there are some load cell brands that we don't typically recommend, but that number is small.  Basically, if you stick with the brands that we mention in this article, you should be pleased with your weighing application. Once again, as we mentioned in the beginning of this article, we don't carry every single brand of load cell for various reasons, so we can't speak about the quality of certain ones.  
So, what Load Cell Brand Should I Choose?
So you may be asking, how do I choose which brand of load cell?  In our experience, the load cell brands above are all high quality and we recommend any of these. A lot of times your ultimate choice may come down to what is in stock and what kind of lead time the other cells currently have. Contact our customer service department if you need assistance determining what load cell you need, along with price and availability.