Even a high quality floor scale, like the Rice Lake Roughdeck, requires regular maintenance to ensure accurate and repeatable weights. Fortunately, there are a few simple steps you (an end user) can add to your regular maintenance to troubleshoot any problems and ensure your platform scale weighs accurately and keeps production processes running smoothly.
1. Inspect and Clean Beneath Your Platform Scale
A common problem that you often see with 4×4 size pallet scales is debris, dirt, garbage, paper, wood, etc… shoved under the weighing platform.  Typically, this starts as a little dirt and debris and over time without regular cleaning, becomes a lot of debris. And once it becomes a lot of debris, it can affect weighing. Debris beneath your scale platform or around the load cells in the scale platform can cause errors in weight readings. For this reason, the easiest fix for floor scale issues is routine cleaning. This includes cleaning the area beneath your floor scale periodically.
Tips for successful floor scale cleaning in all environments:
When cleaning beneath the platform, be careful not to move the load cell cables to a position where they could be pinched or cut during operation.
Scale platform binding is indicated by non-repeatable weight readings. To avoid platform binding, ensure clearance around the platform so it can move freely.
Additional tips for cleaning in washdown environments:
Water damage is a common cause of failure in load cells with an IP rating lower than IP69K. Be sure to use IP69K cells when high pressure or steam cleaning is present.
Use care with hot water washdowns for hermetically-sealed load cells. The hot water may not damage the load cells, but the elevated temperatures can cause incorrect readings until the scale cools to room temperature.
2. Check Your Load Cells
There are several load cell issues that can cause your scale's display to not stay at zero. One possibility is that the load cell connection is faulty. If this is the case, carefully check cable connections in the junction box and at the indicator. Sometimes, we have found load cell wires loose inside the junction box. That can be a simple fix.
If the connections are stable, the scale may contain overload screws which need to be readjusted per the manufacturer's recommendation.
If your scale is consistently showing instability, your load cell cables may be pinched or cut. If this is the case, you may need to replace the load cell or homerun cable if they can't be repaired. Replacing the home run cable is fairly easy to do. Replacing a load cell is more difficult and often is best left to an experienced scale technician.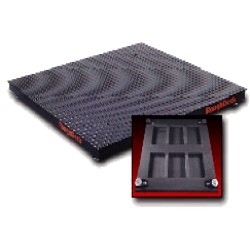 3. Calibrate Your Scale after Testing if Needed
After performing each of the above troubleshooting steps, test your scale and see if it needs to be calibrated. We recommend using something with a known weight that you have around the warehouse.  If you have another scale in your facility, you can weigh something with it and then compare.  If calibration is necessary,  contact your scale technician to perform a calibration with certified test weights. If your floor scale is being used in a Legal for Trade application, a certified technician must perform the calibration.
Reminders for successful floor scale calibration:
Power up the indicator at least 20 minutes before starting the calibration to give the system time to warm up.
Load the scale to near capacity two or three times before calibration is performed.
With the scale base level and no load on the scale, place the indicator in calibration mode and perform a zero calibration according to the indicator manual.
Place calibration weights that weigh 75% of the scale's capacity on the platform.
Perform a span calibration according to the indicator manual.
Remove the weights and check the zero reading. Repeat the calibration process if necessary.
4. Consult Your Scale Dealer or Manufacturer
If after performing each of the above steps, you find that your floor scale still is not working properly, contact your authorized scale dealer for additional assistance. Your scale's manufacturer may also be able to offer technical support or recommend a nearby dealer in your area. We recommend that you have your pallet scales checked and calibrated at a minimum of once every year.