When it comes to livestock scales, there can be a wide range of scales that fall into this category. So, you as the buyer, need to do some research and determine exactly what type of "livestock scale" it is that you truly wish to purchase for your farm and/or business.
We've touched on similar topics before like best large animal scales, best vet scales, best dog scales, etc… but today we focus on larger animal scales.
Many times in today's fast paced world, customers just search for best livestock scales or great deals on scales or whatever they can think of when doing their internet search. However, the more important things to search for are quality, dependability, accuracy, and overall value. Often times you can't determine the answers to those things without working with a customer service representative and/or a scale company that will help you make a good choice.
In today's article we aren't going to go over each and every type of animal weighing scale that is manufactured. However, we will mention a couple of types that you might want to consider.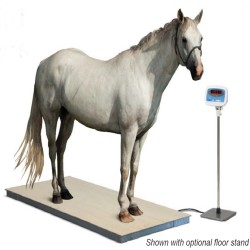 First, there is the large livestock scales that are almost like truck scales or really large platform scales. Both Rice Lake and Cardinal manufacturer these. These scales should be really purchased from your local scale company since you need to be specific about what features you need and the scale installation will need to be done typically by a local company that understands how to install scales.
Next, there is the large livestock scales that are portable and part of a trailer. Once again, these scales are manufactured by Cardinal Scale and Rice Lake and are really designed to be quoted, ordered, and installed by your local scale company.
The scales that we offer customers on 1800scales.com are some of the "light industrial" style of livestock scale. These are scales that are typically a little smaller and in most cases are capable of being installed or moved if necessary.
Some of the more popular choices of livestock scales that we offer include our DLS Livestock Scale, AWB Weigh Bars, Brecknell PS1000 / PS2000, PS3000 and there are more choices available as well like the option to build your own livestock scale.
Now it's important to realize that the scales linked above are probably not the best livestock scales overall. There are likely some animal weigh scales that are better. But, these scales that are better are likely double or triple the price of the scales we have linked above.
Once again, we encourage you to research your different choices when it comes to buying digital livestock scales and determine what qualities and features you need versus what features and benefits do you want?