A question that we typically get about twice a year is "what does not legal for trade" mean when it is on a weighing scale?  
Of course, we've talked about legal for trade scales over the years many times. Basically, if you're buying or selling based on weight, it's either the law, or a really good idea, to have a legal for trade scale, maybe even a cheap one if you can find one.
Why does my scale say not legal for trade?
Therefore, if you have a scale that has a sticker on it that says not legal for trade, then that scale is not designed to be used for commercial weighing purposes. 
How do I know if my scale is legal for trade?
By the way if you're curious if your current scale is legal for trade, just look on the scale somewhere and you should see a CoC # listed on the sticker or plate. You can also look up the scale on the ncwm website.
In our business we see A LOT of scales and weighing equipment.  Just because a scale has a sticker that says not legal for trade, doesn't mean that it's no good.  In fact, many of our scales are not legal for trade and they work fine.  For example, many of our vet scales are not legal for trade.  
That being said, there are some scales on the market that are not very good.  Most scales have to be a certain level of quality in order to earn a NTEP CoC # and become legal for trade.  Some scales that we've seen over the years are not very good and would have a difficult time earning a CoC #.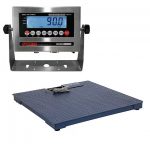 What is a certified scale?
All this talk of legal for trade scales often leads to the term "certified".  A lot of folks use all these words interchangeably.  Words such as NTEP approved, legal for trade, NTEP certified, certified, etc…  Technically, they all kind of mean the same thing but when you mention certified…. Certified can also refer to a local scale company or the state weights & measure inspector actually placing weight on the scale and "certifying" the scale.

What does Ntep stand for?
NTEP stands for National Type Evaluation Program (NTEP)
When a scale manufacturer designs a scale, they take it to the NTEP lab and it is tested.  The process takes awhile for a scale to be tested and earn NTEP approval. The time required to initiate and complete a type evaluation varies with the type of device and any backlog that may exist in the laboratory.
Once a type evaluation is started, if deficiencies are found and modifications must be made to a device, the evaluation will be discontinued. Once the corrections have been made and the device is returned to the NTEP laboratory, the device will be placed at the end of the queue; testing will resume when the device reaches its turn in the testing queue. Type evaluation testing can usually be started within 1 to 4 months of receiving the application. If no deficiencies are found during the initial evaluation, a type evaluation may be completed in approximately 1 to 3 months.
What is a Non NTEP scale?
One line of scales where most customers seem to have trouble with not legal for trade status is with price computing scales.  These scales are designed to be taken to the farmers market or produce stand and can calculate price per pound and display the weight and price on both the front and back of the scale.  Since this is a commercial weighing application, most all of these produce scales should be legal for trade.
However, if you do a little searching for these scales you can easily find them on sale usually at a pretty low price like $70.99 for example.  As you know, prices are changing all the time these days but the typical price for a high quality legal for trade price computing scale is somewhere around $250 – $325 + shipping.  
We also see the not legal for trade mentioned on other scales as well such as crane scales and industrial floor scales, etc…  And sometimes that works out just fine for certain customers who are not in a commercial setting.  
Hopefully we've answered your questions regarding what does NOT LEGAL FOR TRADE mean on a scale? If you need assistance with your next legal for trade scale purchase, just email our customer support team and we will work with you to recommend the perfect scale for your weighing needs. If you need a not legal for trade scale, that is fine too.  We can recommend those as well.