No matter what you're weighing, scales require regular calibration to ensure accurate measurements. Calibration weights measure the accuracy and dependability of weighing instruments and help you recalibrate the scale to ensure correct measurements. This article will discuss the best place to buy calibration weights (or cal weights).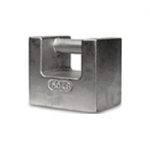 How to Calibrate a Scale with Calibration Weights
During calibration, you should test and adjust the weighing system's response using certified test weights. For example, if you place a one-kilogram calibration weight, the instrument should show exactly one kilogram.
Calibration test:
The display indicator must indicate zero with no weight on the scale.
The indicator should show the exact amount of weight applied within the specified tolerance.
The scale should display the right weight with incremental weight additions or removals.
Keep reading to learn the best places to buy calibration weights, both online and in-store.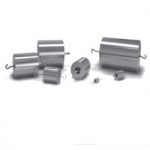 Basic Comparison of Calibration Weights
Do you need nonmagnetic weights? Do you need to weigh items up to 300 kg? When you're shopping for calibration weights, you need to know which type to buy for your purpose.
1. Individual Weights vs. Weight Kits
Individual weights allow you to buy the precise weight required to calibrate your scales. Sold individually, these weights range from 1 mg to 30 kg.
In contrast, calibration weight kits come with multiple weights, such as 1, 2, 5, 10, and 20 kg. Multiple weights can test tolerances for ensuring accurate resolution and sensitivity on analytical balances or laboratory scales.
2. Stainless Steel Weights vs. Cast Iron Weights
Stainless steel calibration weights have nonmagnetic properties, so they are highly accurate and not affected by magnetic fields. With a consistent density of 8,000 kg/m³, smooth polished stainless steel ensures long-term stability. Cast iron weights can wear down with time and use due to their tendency to absorb moisture.
Iron is magnetic, which may cause interference from magnetic fields created by electronic balances. Many experienced users prefer stainless steel cal weights, but cast iron may be appropriate in some cases.
3. Grip Handle Weights vs. Cylinder Weights
Grip weights have a handle that makes them easy to carry and calibrate legal-for-trade scales. Grip handle weights start at 1 mg and go up to 1,300 kg to test heavy industrial weighing devices.
On the other hand, cylinder weights work well in the food, beverage, and pharmaceutical industries to calibrate light industrial weighing devices with weights ranging from 1 mg to 30 kg.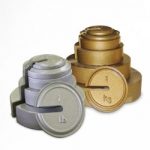 Best Places to Buy Cal Weights Online
Are you looking to buy cal weights for your weighing instruments? Check out these online retailers that sell various types of cal weights. 
1. Rice Lake Weighing Systems
Rice Lake manufactures and distributes calibration weights worldwide. This ISO 9001-certified company combines cutting-edge research and design to create individual weights, weight kits, and weight sets.
Customers can buy calibration weights online in the 0 to 7 and F classes and many shapes and sizes from Rice Lake. Calibration products include grip-handle, cylindrical, screw-knob, leaf, specialty, and slotted weights.
2. Troemner Calibration Technologies & Precision Weights
Founded in 1838, Troemner has emerged as a leader in precision measurements. Troemner has strengthened its reputation by achieving ISO 9001 certification and National Institute of Standards and Technology (NIST) accreditation. The full line of calibration weights includes UltraClass, Class 0 to 7, E0, E1, F, and F2.
Consumers can choose from a range of mass, balance calibration, scale, and test weights. Other products include calibration weight carts, education weights, and calibration weight accessories. 
3. Ohaus
Ohaus sells individual calibration and mass weights in different styles to meet international standards. Ohaus is one of the best places to buy calibration weights for physics applications. Consumers can buy calibration weights ranging from 1 mg to 50 kg.
4. Sartorius Weights 
Sartorius Weights sells individual cal weights or sets of nine or 21 pieces. Weight sets range from 1 mg to 1,000 kg with accurate mass values. Consumers will receive a free traceability report and a calibration certificate at an additional charge.
Choose from different shapes, including cylinder, leaf, block, wire, and knob weights. The calibration weights come in Class 0, 1, 2, E1, and E2.
5. 1800scales.com
If you just want to buy your test weights and not have to deal with requesting a quote or playing phone tag for a week, 1800scales.com is probably your best choice for purchasing test weights online. This site has provided customers with quality weighing equipment and test weights at affordable prices since 2005. Consumers buy their calibration weights for many fields, including science, medicine, education, retail, and manufacturing. Popular selections include cast iron grip handle weights, slotted weights, stainless steel weights, and weight kits with carrying case. Traceable Certificates are also available.
Buying Calibration Weights from a Local Company
If you're looking for the best place to buy calibration weights, the impersonality of buying online might not be what you're looking for. Instead, you might consider visiting a local scale company for personal attention and better customer service.
Consumers can buy calibration weights based on the American Society for Testing and Materials (ASTM), the International Organization of Legal Metrology (OIML), and NIST standards. Many local companies have factory-trained technicians that service:
Analytical balance weights
Precision weights
Microgram weights
Scale weights
Test weights
Hooked weights
Slotted weights
Hanging weights
Custom weights
Education weights
Local companies provide excellent support with high-quality weights and precision measurement products without charging you expensive shipping costs.
Central Carolina Scale Test Weights
Central Carolina Scale ranks as one of the best places to buy calibration weights online. The trained staff can teach you how to use the weights and answer any questions. 
Final Thoughts
Well there you have it. A complete overview of some of the best online choices for purchasing calibration test weights. While our list does not list every single place, it does provide you with some good background information and resources to start looking for test weights for checking scales.