We have done articles in the past on veterinary scales and digital scales for smaller animals like dogs and cats. But we haven't really focused on large animal scales. So, we thought it would be great to provide a little insight into this market of scales. Weighing animals with accurate scales is essential. The digital scale lets owners know if the animals are healthy or not. It also allows the owner to determine the proper amount of food, water, medicine and exercise the animal should receive.
INDUSTRIAL STYLE SCALE FOR WEIGHING ANIMALS
The top choice in our opinion is the Brecknell PS3000HD. Accurate and reliable: ideal for accurately weighing horses and other larger animals, this scale helps to remove the guesswork where treatments or administration of feed needs to be closely monitored. Some of the key features of this scale that we like are the "industrial style" construction. This large animal scale is built like an industrial floor scale. So it is built pretty tough with load cells in each corner of the platform. The 3000 x 1 lb capacity works for many different applications.
Accurate and reliable: ideal for accurately weighing horses and other larger animals, the PS3000HD helps to remove the guesswork where treatments or administration of feed needs to be closely monitored. The capacity of 1500 kilograms makes it ideal for a wide range of horses. The 39.37″ W x 78.75″ L x 3.93″ H weighing platform is ideal for weighing various types of animals with ease. The scale is large enough to avoid making animals skittish while weighing. The PS3000HD includes Anti slip Rubber Mat which can reduce noise and the risk of slipping. The scale is supplied with plywood mounting holes to allow customers a quick and simple way to fit their own plywood top to help reduce noise and risk of animals slipping.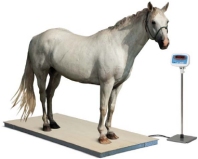 The scale can also be used in other general weighing applications to aid loading and unloading. Hold function for single user weighing. Easy to use hold feature enables the scale to capture the weight and retain it while you tend to the animal. Battery operation for remote locations. This supplies full function with no AC power attached. AC adapter is included for charging or full time operations.
Detachable indicator makes battery charging easy. This allows the indicator to be removed and taken to an AC power outlet for charging. No need to move the entire scale to the power source.
Durable design for rigorous applications. This scale will insure years of use in even challenging environments.
Now, the two negatives of the Brecknell PS3000HD is the portability and a ramp. If you're looking for large animal scales that can be moved around, then this scale is probably not your best choice. If you need a ramp to roll something on the scale, that is not currently available. Otherwise, for a stationary large animal scale, the PS3000HD is our top choice.
LARGE ANIMAL SCALES THAT ARE PORTABLE
Another choice for consumers to consider is the Brecknell PS2000. The PS2000 provides consistent accuracy within 0.1% and comes equipped with a digital weight indicator for fast digital read out. The scale with 59" L x 30" W x 2.5" H weighing platform is relatively portable, weighing only 82 lbs, two easy access carry handles makes this scale convenient to relocate. No need for ramps or recessed floors, as this unit comes with ramped ends built in. There are no installation costs and no moving parts that require maintenance or adjustment. The scale has a 2000 x 1 lb capacity. This is the type of digital weigh scale that can accomplish a multitude of weighing jobs around the farm. Everything from livestock, pets, feed carts…. to bulk containers, shipping and receiving and more.
Obviously since this scale weighs less than a hundred pounds, you know that the construction is not as heavy duty as the previously mentioned PS3000HD. If you're planning on setting a scale in your building and not moving it around, then we would suggest the PS3000HD. However, if you are going to try and move the scale around to different locations, then the PS2000 would be a better choice.
Brecknell also offers the PS1000 which is a little smaller than the PS2000. It has a 1000 x 0.5 lb capacity and 55.75″ L x 20.25″ W x 2.5″ H platform. A lot of the information above applies to it as well. Basically, if you need portability choose a PS1000 or PS2000. Otherwise the PS3000HD is our recommendation.  Also see dog weight scales article.
ANOTHER CHOICE TO CONSIDER
We wanted to mention the Optima OP-929 Livestock Alleyway Scale. The OP929 Livestock Scale is a Heavy Duty Industrial scale constructed of rugged steel with tread plate surface and large platform, 84″(L) x 30″(W) x 5″(H) plus it also has (2) integrated 6″ Long Ramps make it easier to get an animal or dolly on the weighing platform with ease (no lifting required). Adjustable leveling feet allow scale to work effectively on uneven floors. With a standard capacity of 5000 lb x 1 lb the OP 929 will accommodate most animals.
The OP-929 large animal scales feature an easy-to-read 1 inch weight display. Wall & Desk mount Bracket included. The weight display is AC/DC and the Rechargeable battery and 120V AC Adapter / Recharger are included.
PORTABLE WEIGH BEAMS
Finally, the last scale we wanted to mention is the AWB40-5K weigh beams. This set of scales is very versatile. Easily mounted under Livestock Chutes, Platforms, Large Tanks and Hoppers. The AWB set of weigh beams is the best all around quality that we have seen when it comes to portable weigh beams. There are other sets of portable weigh bars on the internet but most are not as good when it comes to quality or durability in our opinion. These feature (2) 40″ long weigh beams for a total capacity of 5000 pounds.
Well, this is a list of the top choices for large animal scales in our opinion. We based these recommendations on years and years of sales and customer feedback. These scales are generally affordable and actually a really good value for many customers who are looking for a solution for weighing larger animals that are bigger than dogs. As always, contact our customer service department if you have any questions before making a purchase.