We would like to look at the VisionTechShop TVP lineup of retail scales and provide you with a review and answer some frequently asked questions.
These TVP series commercial scales are compact and easy to use. In today's article, we would like to address some of the questions that we've been receiving about these digital scales. These scales are designed to calculate price per pound, price per kilogram and price per ounce and display the results to both you (scale operator) and your customer.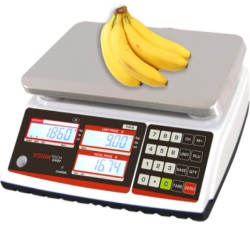 The NTEP approved legal for trade Vision Tech Shop scales are compact and very affordable. Below are some popular questions that we have received regarding these price computing scales.
VISIONTECHSHOP TVP PRICE COMPUTING SCALE FREQUENTLY ASKED QUESTIONS (FAQ)
Question: Does the VisionTech Shop TVP scale operate on flashlight batteries (C or D cells) or does it use rechargeable batteries?
Answer: Yes, the scale operates on regular 110 VAC power or the internal rechargeable battery.
Question: How long does the TVP commercial scale operate on a charge?
Answer: The scale includes the AC power adapter and rechargeable
batteries (included) with up to 40 hours of battery life. Of course, as we often say with battery expectations, you could experience more or less than the 40 hours. That is likely with auto off enabled and no backlight. 
Question: How reliable is the VisionTech Shop retail scale?
Answer: This is a relatively new brand so it's hard to say for sure. We feel that the scale will be fairly reliable. The TVP scales are impressive when you first see them and seem to be pretty good quality for the money. 
Question: What is the weighing platter size?
Answer: 10.5″ x 8″
Question: I need a scale that is large enough to weigh a strawberry bucket but not so big that it takes up half my table.  How physically large is this scale?
Answer: This scale is a good size for most legal for trade price computing applications. The overall footprint that this scale takes up is approximately 12″ x 11″. The height of the scale is around 4″. So there still should be plenty of room left on the table to display your strawberries, or other produce. 
Question: What capacities are available?
Answer: At this time there are three different capacities available. There is a 12 x .002 lb, 30 x .005 lb, and 60 x .01 lb.  
Question: Does the TVP display weight in ounces?
Answer: Yes, we believe the correct answer is:  (12 lb) 160oz x 0.05oz,  (30 lb) 480oz x 0.1oz, (60 lb) 960oz x 0.2oz
Question: Can I print on this scale?  Can I use my printer?
Answer: Yes you can print with the VisionTechShop Label Printer that we have available. Printing is very basic with entry level price computing scales. If you're looking for more advanced printing then you will need to specifically look at label printing scales like the CAS LP1000 or Ishida Astra
Question: Will the TVP scale measure in grams?
Answer: The scale displays weight in lb, kg, and oz
Question: Is the TVP scale from VisionTechShop NTEP approved? 
Answer: Yes, NTEP Approved Legal for Trade, CoC #19-038
Question: With all the units available, does the Vision Tech TVP scale display weight in lb/oz?  How about tenths of a lb?  
Answer: The TVP displays weight in the unit that you select. If you choose lb, then weight will be in pounds with decimals.  If you choose oz, it will display in ounces with decimals. It won't display 5 lb 3 oz. for example.  As for tenths of a lb, no it doesn't display in tenths. It is more accurate, (two or three decimal places).
Question: Is the AC adapter / Charger included?
Answer: Yes, it is included
Question: Is the TVP scale waterproof? 
Answer: No, if you need waterproof scales, we might suggest something like a Doran 7000XL or other scale that has at least a IP67 rating.
Question: Does the VisionTech TVP retail scale have displays on front and back?
Answer: Yes, the scale has displays on the scale operator side and on the customer side.
Question: Does the scale have a tower display?
Answer: The TVP series does have a tower display option available. Contact customer service for more info on that if that is something that interests you. Please note that over the years, we have found with tower displays, in most cases, customers don't want them, especially if it's a portable application.
Question: Does the VisionTech Shop TVP scale have a USB port?  
Answer: No, but it does have a RS-232 port to connect to a label printer
Question: Why should I order the TVP scale from you when I see the "mega" website sells them and probably even offers free 2nd day shipping?
Answer: Yes it's true that the gigantic website that sells everything and offers fast 2 day shipping does offer these. However, the mega site you're referring to, has no idea how the TVP scale works. To them, the scale is simply a part number. On the other hand, we understand scales and can answer your questions about which scale is best for your application.  And, we'll also say this to you… we have families and bills to pay.  Please support our small business!   
There you have it. These are some of the questions we often get about the VisionTechShop TVP series price computing scales. If you're in the market for one of these scales, you can order them very easily from our website. 
The Vision Tech Shop TVP series is a robust, easy-to-operate, NTEP approved price computing scale. The large, easy-to-read back lit display is ideal for low light conditions. The TVP series comes with three easy to read operator and customer displays. It shows the weight, the unit price of product and the total price.
Fast and simple to operate with easy to enter unit prices and ten stored PLU's for recalling the most commonly used unit prices.
This compact price computing scale has a small footprint and built-in rechargeable battery with up to 40 hours of battery life which is ideal for farmers markets or applications where power outlets are not available.
We hope this buying guide has been useful for your decision making. We've been reviewing and recommending digital scales since 2005. We've seen a lot of scales over the years and we know which ones we like and we know which ones that we recommend you avoid. Likewise, we've seen a lot of websites selling scales come and go. Ours has lasted because we try to offer quality products and thoughtful recommendations.  If you have questions, please contact customer service and they can help you choose the right scales for your application.