We are going to continue our popular series where we look at some YouTube videos of scales being constructed and provide our thoughts and opinions. In this entry we're going to take a look at a build your own single animal cattle scale. The man in the video uses his existing livestock equipment but adds the scale components kit underneath. What do we think about the process? Well let's get to our analysis!
Build Your own Single Animal Cattle Scale Kit Review
First, the existing kick gate steel components are good quality. The current equipment is bolted down to the concrete. The man in the video is planning on bolting the four shear beam load cells to pieces of wood in each corner of the platform. You can see in the video that he is planning on just using the load cell spacers and not using a mounting plate to bolt the load cells into. If you've read our past articles, you know that we're fans of using a mounting plate if possible.  However, with this being wood, I'm not sure if he could use the mounting plates. In case you don't know, mounting plates are normally welded to the platform and provide a great place to bolt the load cells.  And then, a scale foot is screwed into the shear beam load cell on each corner of the weighing platform.  Each foot is adjustable to accommodate for any uneven weighing surfaces.
Wooden Scale Platform Flexing?
When I watched this video, my first question was how well would the wood pieces do with flexing… I like how the man in the video put strips of wood below the wooden scale platform to provide support. However, I can't help but wonder how much flexing is occurring when a cow steps on the scale? And you also have to wonder how this is going to fare over several years of weather?  The man shows the junction box with summing card but I don't think he ever mentions where he's going to mount that particular item. Once again, as we've stated in previous reviews, ideally you need to mount the j-box in an area where you can access it easily for any future troubleshooting that you may have to do.
Quality Scale Equipment to Build Your own Platform Scale?
The equipment utilized in this video is pretty good quality weighing equipment. Is it the top of the line scale equipment? No it is not. However, it is a line of scale equipment that is popular with many folks looking for legal for trade quality scale equipment for very affordable prices. Of course, the scale system itself will not be legal for trade, but the equipment is good quality load cells and weight indicator. I also like seeing the indicator with an LCD weight display and a basic Stainless Steel enclosure.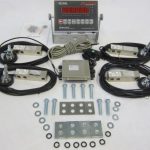 Final Thoughts Regarding This Design Your own Platform Scale System
Overall, I thought this was a good build your own single animal cattle scale installation. The equipment is an affordable but good quality level of scale equipment that should provide good value and accuracy.  The LCD display should come in handy, especially on sunny days outside. My biggest concern would be the wooden platform, especially over time and outdoor weather conditions.