Simplicity of design and rugged construction are the key features of the Brecknell MS140-300 Portable Medical Scale. Featuring a 20.5" x 20.5", low-profile (65 mm (H) / 2.5" H) platform with sturdy handrails and padded grips, the MS140-300 digital scale was designed to be the perfect choice for clinics, health clubs, or even home use.
This medical scale has the ability to print weight data offering a real time saving device for doctor's offices, long-term care facilities, and other medical institutions. Heavy-duty, yet lightweight & portable this scale is suitable for almost any application requiring accuracy and medium to heavy weight capacity.
This scale is what we would refer to as a handrail scale. The repeatability is unbeatable and will offer years of continued usage. It comes with an easy-to-read LCD backlit display and operates on AC power. This medical scale is durable and reliable at an affordable price. Below are some popular questions we often are asked about the Brecknell MS140-300 handrail scale.
Q: Does the scale have wheels?
A: Yes, on the side of scale platform. 
Q: Can the scale be used on carpet?
A: We recommend that you place the scale on a level and hard surface for the best results.
Q: Will this scale need to be calibrated after delivery and assembly?
A: The scale is calibrated at the factory before shipment… so it should weigh fairly accurately once you assemble it (see our video above regarding assembly). However, we always recommend that you have a local scale company calibrate your scales periodically as well. 
Q: How is the scale powered?
A: Four AAA batteries or 9 VDC, 600mA wall mount adapter (both included) 
Q: What is the weight capacity on the Brecknell MS140-300?
A: 660 pounds
Q: What are the dimensions for the platform?
A: 20.5″ L x 20.5″ W x 2.5″ H. 
Q: What are the overall dimensions?
A: 20.5″ L x 20.5″ W x 44.25″ H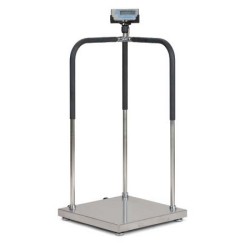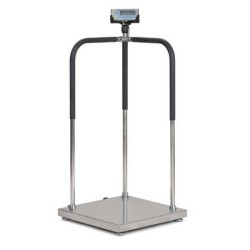 Q: Does the scale have a serial port?
A: Yes the scale has a RS-232 serial port.
Q: What units does the scale display?
A: lb, lb:oz, kg
Q: Can you add a height bar?
A: No you can't add a height bar to the scale. However, you could add one of our wall mount height rods near the scale. 
Q: Is this your best handrail scale?
A: Probably not. There are others that are probably a little better such as the seca 644. Befour has some nice scales along with HealthOMeter, Detecto, etc…. However, for the cost and overall value, the MS140-300 is nice choice for a lot of customers. 
Q: How accurate is the scale?
A: The scale displays weight up/down in 0.2 lb increments from 0 to 660 lb. 
We hope that this page helped you make a good buying decision. If you have any questions about our medical scales, please contact our customer service and we will be glad to help you out.